We just finished an amazing Reiki Retreat weekend, offering certification in levels I & II, with so much love and wisdom sharing for a dozen-plus souls in each day's gatherings. We have another coming up on March 12-13. What a wonderful way to welcome spring. Before I share some love with you below, here are a couple more event-related updates…

Katie Packham and I have two spaces still open in our "Living the Creative Life" Workshop this Sunday. Join us for mystical and practical exploration into living the lives of our dreams, plus mosaic art, plus yoga, plus catered  breakfast and lunch. For more information or to enroll, go to Katie's Copper Cat Studio website. Katie is also having an Open House this Friday beginning at 3pm in her new midtown location. Please Please Please join us to welcome her and to celebrate this amazing expansion of Copper Cat and Tessera Glass.
Sage Spirit has a brand new love offering for our community, "Love in Concentric Circles: A Journey into Expanded Love and Conscious Relating," to be held on Saturday, February 6 from 10am to 5pm. This workshop is perfect for sharing with beloveds, friends, family or in the company of as-yet-unknown-but-soon-to-be-close friends. We will share discussions, activities, meditations and more to:
Enhance self-awareness and self-love
Open our hearts even more
Become more conscious of our love-ways
Share even more love in the world
To join us, send me an email, denise@sagespiritcoaching.com, or better yet, sign-up on our facebook event page.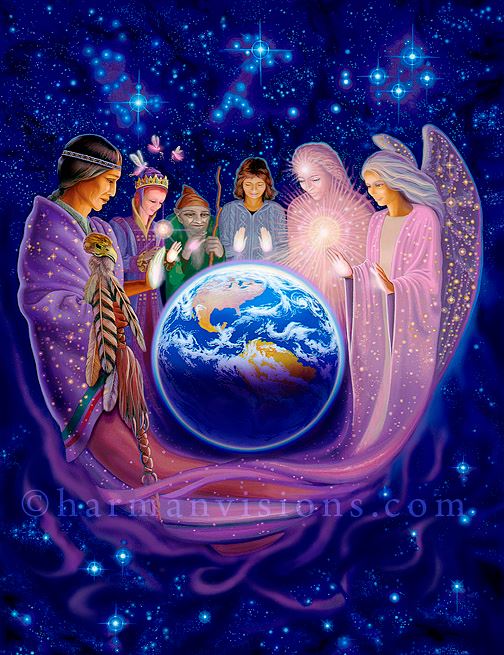 Sunday, February 7 from 2pm to 7pm we will have another Sacred Circle for sharing our spiritual stories. Visit our facebook event page to sign-up or email me.
For a complete listing of our upcoming events, visit this webpage.
And now for some love and unity…
Unity
there are days…
when i feel my love rise up and through me, emanating through the cosmos, reaching you and you and you, tickling and dancing and flying… when i feel so connected to Source that i wonder that i might dissolve into non-physical on the spot… when i am near to tears with joy… when i quiver with something much bigger than passion or desire, with something only known at the soul level… when i know i may easily, effortlessly and with complete faith offer up all i am to you and you and you, to support and nurture, to love unconditionally.
love is the key, the door, the portal to all-that-is… i breathe all of you in and I share all i am with you…
no more words. only Love.
and then there are days…
when the energies around me feel chaotic and swirling,
where i may wonder if i even know who i am or who others are from one moment to another radically different kind of moment.
let me be here for you in these times of radical transformation, to hold space, to remind you of who you are becoming.
no more words. only Love.